PHYSICAL EDUCATION AND SPORTS
Our PE Vision
PE at St Michael's will include all children being involved in quality PE lessons, enjoying playing sport and games, both in and out of school, with a range of after school sports clubs, with opportunity for G&T children to achieve highly in competitions. Our children will understand the benefits of keeping fit and healthy and manage their behaviours appropriately in conflict situations, with all this contributing towards the Gold School Games Mark. Progression links will be made between year 6 and year 7, with the intent of the children being ready to make the transition to high school.
Our resident Sports Leader, Mr Stott, delivers all of our PE lessons for years 1-6 as well as many of our extra curricular clubs, whether that be lunchtime or after school.
To deliver our dance lessons, we bring in highly qualified and professional dance teachers from Yew Tree Dance Company.

In Year 5, our pupils are given the opportunity to learn and develop their swimming skills! Each class goes to Sun Lane Leisure Centre for an hour lesson every week.
We are a Gold Mark School!
Last year we achieved the Gold mark in the Your School Games awards!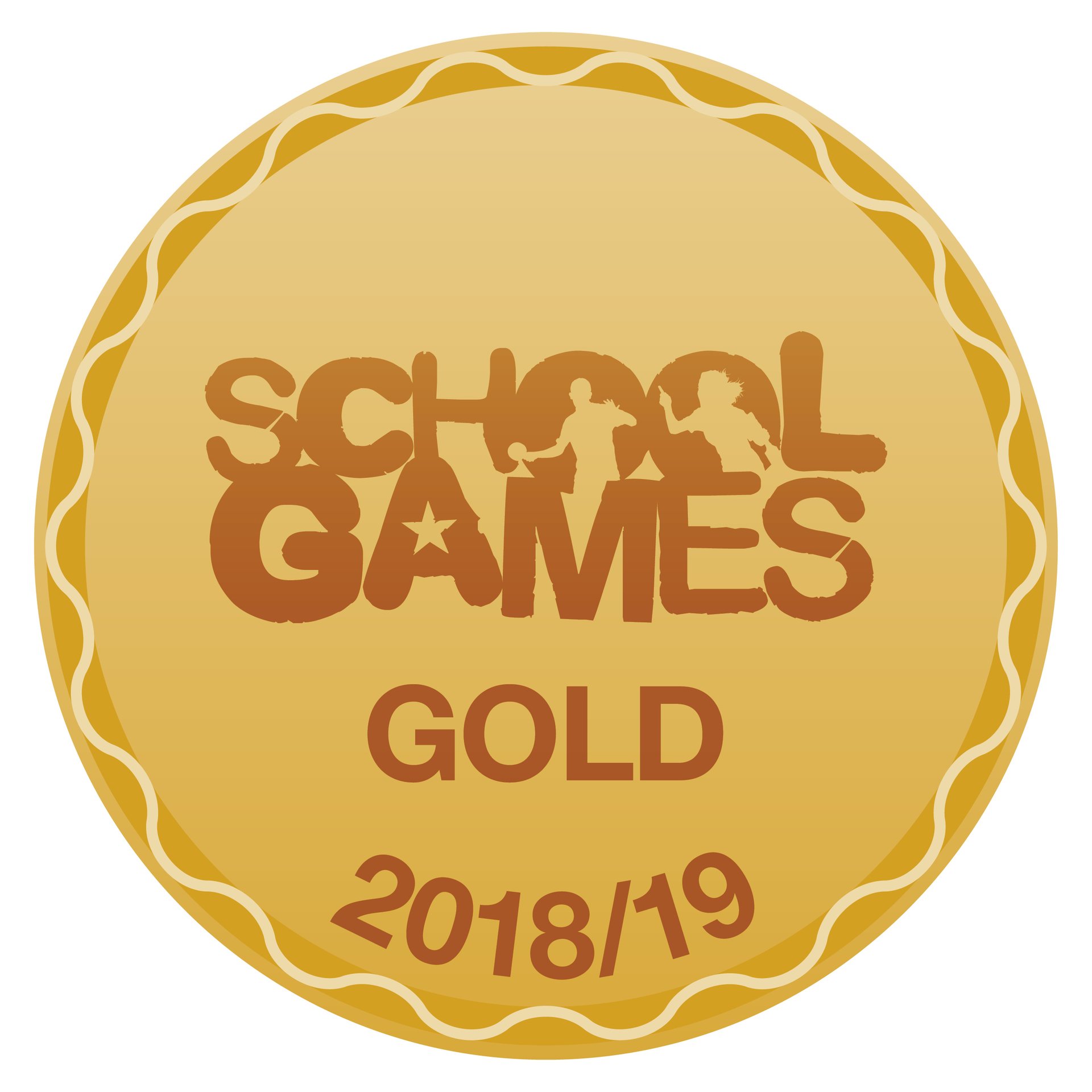 The School Games Mark is a government led awards scheme launched in 2012 to reward schools for their commitment to the development of competition across their school and into the community. This process allows schools to evaluate their PE provision and assists them in developing an action plan for future progress.
This year, because of the pandemic, we have retained our Gold mark without having to complete the year as normal. Next year, we will be going for this accolade again.
At lunchtimes, we offer a wide range of different activites for our children to take part in. Our school grounds include: a large playground with painted-on activities, a MUGA, trim trail, basketball hoops, large field and garden area.
Sports leaders organise and lead different physical or technique challenges each lunchtime for the children to work on and improve their best score or time. These challenges are below.
Challenge 1 (fitness)
Exercise bike dash - gym equipment
How long can you sprint at full speed for? The times below indicate your achievements:
10 seconds - Ruby
20 seconds - Sapphire
30 seconds - Bronze
45 seconds - Silver
60 seconds - Gold
Challenge 4 (technique)
Lateral jump
How many times can you jump sideways across a set distance in 30 seconds?
15 - Ruby
20 - Sapphire
25 - Bronze
35 - Silver
50 - Gold
Challenge 2 (fitness)
Leg squat burner - gym equipment
How many squats can you do in 30 seconds on our squatting machine?
10 - Ruby
20 - Sapphire
30 - Bronze
45 - Silver
60 - Gold
Challenge 5 (technique)
Netball shoot-out
How many times can you shoot through the netball hoop in 30 seconds?
1 - Ruby
2 - Sapphire
3 - Bronze
5 - Silver
8 - Gold
Challenge 3 (fitness)
Ski swing swiveller - gym equipment
How many full ski swings can you do in 30 seconds? Use the targets below as a guide.
20 - Ruby
30 - Sapphire
45 - Bronze
60 - Silver
90 - Gold
Below is a list of different activites to do at home. Parents can join in and help you if you like.
Make sure you warm up properly before each session so you don't injure yourself. For a good warm up routine, follow this link:
https://www.youtube.com/watch?v=E7ghNKOH9To
Enjoy staying active, fit and healthy, as well as learning some new skills.
HIIT workouts
Everybody knows about Joe Wicks (The Body Coach) and his workouts! He has a great range of activities to try so head to his YouTube channel and find one that suits you.
https://www.youtube.com/user/thebodycoach1
Dance workouts
If you can keep up with these two ladies, you can be very proud of yourself!
https://www.youtube.com/watch?v=yN3GgCUmmXw
Yoga
This is a great introduction to yoga for children. Learn how to breathe, stretch and strengthen your body.
Try some of these individual skills. Some will be difficult for people with small hands!
https://www.youtube.com/watch?v=wlmnajiIcTA
12 minute of handling skills - you only need a 1 metre area to do these drills in.
For these football skills, you need a ball and 4 objects to make a 1 metre square area. That's it! Follow each step to practise your close control of the ball. Can you stay inside the square?
https://www.youtube.com/watch?v=CgsymJy0RJk
Here are three drills that you can do to improve your skills. They need a bit more space than the first video, and the first one needs somewhere to shoot at. If you haven't got space to shoot, move on to skill 2 and 3. They look at dribbling and fitness.
https://www.youtube.com/watch?v=Y8i6QDPQ0v0
This video has 100 different drills! Some need no space and some need more so pick the ones that suit you and have a go!
Our year 5 and 6 sports leaders are on the playground every break and lunchtime, providing activities and games for others to take part in. They receive great training from Mr Stott and are rewarded with trips to see professional sport if they show fantastic effort, teamwork and communication skills.
Here are a few places we have visited with our Sports Leaders:


Headingley stadium for a World Cup cricket match.
Liverpool Echo Arena for the Netball World Cup.
Sheffield Arena to see the Sheffield Steelers Ice Hockey team.
If you want the chance to go to places like this, make sure you take the opportunity when you are in year 5 and 6 and show us what you are capable of.
Partners
Here at St Michael's, we have been partnering up with a variety of sports clubs outside of school to help improve and sustain participation in sport for our pupils. If your son or daughter has ever expressed an interest in joining a sports club outside of school, then maybe you'll find some useful contacts in our partners.
Cricket
Wakefield St Michaels
Dance
Dance With Chloe
West Yorkshire Theatre Dance Company
Football
Thornes Juniors
Durkar Devils Girls
Rugby
Normanton Knights Girls
Stanley Rodillians
If you would love to be partnered with St Michael's then please contact Mr Stott - alexstott@acesportuk.co.uk
After School Clubs
After School Clubs run from 3:15-4:15 and pupils should be picked up from the main doors on the playground.
Our sporting after school clubs for the next term will run from the 10th January until 17th February, and are as below:
| | | | |
| --- | --- | --- | --- |
| Monday | 1/2 | Multi-sports | Mr Stott |
| Monday | 3/4 | Benchball | Mr Butcher |
| Monday | 5/6 | Dodgeball | Miss Shaw |
| Tuesday | 1/2 | Football | Mr Stott |
| Wednesday | 3/4 | Dodgeball | Mr Stott |
| Thursday | 5/6 | Hockey | Mr Stott |
All clubs are absolutely FREE!!!
Competitions
Competitions have, unfortunately, not been able to take pleacce as we'd wish this year, Please check back here for information when we are able to start them up again.